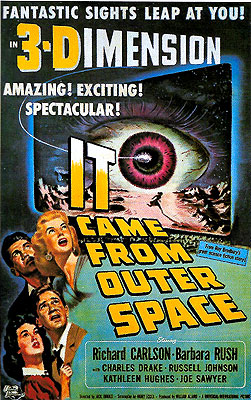 an old Sci-Fi Classic.....
"It Came from Outer Space".... one that we have enjoyed since we were a small kid...
And the "creepy-looking" one eyed Alien....
they crashed on earth and were in need of "help" to repair their damaged craft....
Fearing that the Humans would reject them ... or worse try to Kill them... they began to take control over the Humans that they encountered.....
using them as slave labor to repair their ship...
when the "Monster" was finally revealed... it was very "Creepy" to me as a kid....
and this terrifying "Beastie" was designed by the same talented Lady who designed the Creature from the Black Lagoon.... among other Universal "Monsters"...
an enjoyable film still to this day....
The Movie itself (for now) ... till the CAS pulls this film as well... so enjoy....